I was honored to be able to represent the Digital POWRR project at iPres 2014, the 11th International Conference on Preservation of Digital Objects. iPres was held in at the State Library of Victoria in Melbourne, Australia from October 6-10, 2014, and brought together leaders in the field of digital preservation from nations across the globe.
Melbourne was a spectacular host city for the conference, as it is full of friendly people, delicious food, beautiful architecture and scenery, and  is home to a unique central business district that features countless narrow alleyways brimming with restaurants, shops, bars, and clubs. When I started researching my travel plans, I discovered one of these alleys had been christened "AC/DC Lane" in 2004 after the famous Australian rock band AC/DC. The photo of the street sign – complete with lightning bolt – made me laugh, as it then dawned on me just how much my POWRR poster had subconsciously been drawing from this iconic band's imagery and energy. When I introduced my poster on Thursday"s quick fire posters session, I made sure to mention this association, and invited the audience to perhaps alternatively think of my poster, and the Digital POWRR project overall as "Digital Preservation Done Dirt Cheap" (riffing on the band's 1976 hit album and song "Dirty Deeds Done Dirt Cheap.") It remains to be seen if digital preservation can indeed qualify as a "dirty deed," and I had to stop myself from writing a Weird Al style parody of the song with my own lyrics relating to preservation topis. In any event, my comparison struck a very positive and happy chord among the participants, and I entertained constant attention from and stimulating discussions with delegates for the rest of the day. I was thrilled. Thunderstruck, even.
On the more serious side, my poster was titled "The Digital POWRR Project: Enabling Collaborative Pragmatic Digital Preservation Approaches." I attempted to summarize the major work that the Digital POWRR team has been involved in over the last three years, including: the process of testing various preservation services and systems, researching and writing our white paper, compiling our (very popular) tool grid and our current collaboration with the COPTR initiative, the creation of specialized advocacy materials, the development of our popular workshops, our investment in the further development of the open source accessioning tool Data Accessioner, and our work on developing collaborative legal frameworks that can be utilized by anyone in the preservation world, The poster also tries to present some concluding thoughts and lessons learned from the experience of working on this particular project. My poster and summary from iPres can be viewed here in their high-resolution glory. I would like to give a big shout out to my friend Daniel M. Kanemoto for providing the graphical direction and styling that subconsciously harnessed the power of POWRR as well as AC/DC. I remember saying "Can you help me do a poster? All I know is that it needs to be full of thunderbolts. Can you do that?"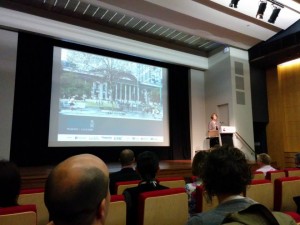 I was fortunate enough to attend a number of highly stimulating panels, papers, discussions, and workshops during my time at iPres. Among the highlights of my trip was the hands-on workshop for the BitCurator digital forensics software toolkit (led by the enigmatic Cal Lee), a wonderful panel moderated by Paul Wheatley titled "Getting to Digital Preservation Tools that 'Just Work'" (which was held in an overflowing room and probably could have sustained a discussion for an entire day!), hearing about further developments in the 4C Project (including the spectacular Digital Curation Costs Exchange site), and, certainly the spectacular gala dinner. The State Library of Victoria was a lovely host venue, combining a stunning building (or series of 23 buildings!) with truly warm and helpful employees. iPres 2015 will be held in Chapel Hill, North Carolina, so keep an eye out for more on that in the coming months!
Oh yes, one other highlight of my trip was getting to see an actual live koala in the wild! I didn't have much time for sightseeing, but I did manage to take a day long bus tour of the Great Ocean Road. It was a day that I will always cherish. Cheers to my new mates in Australia, and thanks for the wonderful week Down Under.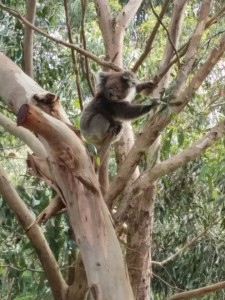 ***As for the title of this post, " For Those About to Preserve….We Salute You"…if you are familiar with the source material at all, then I hope you enjoy these alternative lyrics that  just somehow popped into my head. Who knew that AC/DC was so relvant to our field??
"Stand up and be counted for what you are about to receive!
We are the curators,
We'll give you everything you need!
Hail hail to the chain of custody!
Cuz format migration has got the right of way.
Hey, can you emulate this for me?
We're not just saving for today.
For those about to preserve, we salute you….
For those about to preserve, we salute you…
We preserve files at dawn on the digital front line..
Like a bolt right outta the blue,
The skies alight with a computer byte,
Checksums will roll and rock tonight!
For those about to preserve….we salute you…"